Termite Pest Control in Encino, CA, and the Surrounding Areas
Each year homeowners suffer huge property losses due to termites.
These losses are preventable if proper action is taken soon enough.
For proper treatment you need to know what type of termites they are, where the infestation is located, the correct method for eradication, construction details, soil conditions and several other factors that will have a bearing on termite pest control results.
TERMITE FACTS
1. Termites cause more damage than tornadoes, hail storms, wind storm, and hurricanes combined.
2. Termites cost Americans more than $1 billion each year.
3. You can buy insurance for many sources of home damage, but not for termites.
4. Termites have been around for more than 240 million years. They adapt to ever changing environments. Termites are natures way to break down wood and return it to the soil.
5. Termites can not determine the difference between the wood in the forest where your home was built and the wood members of your home.
6. Termites can infest almost every part of your home.
7. Termites can enter your home through a crack or opening as thin as a piece of paper.
8. Termites never stop working and eating. They work 24/7.
9. Termite colonies can average more than a million termites.
MAINTENANCE TIPS TO HELP REDUCE TERMITE INFESTATIONS
1) Here in Southern California termites are a major problem, we recommend that you have your home inspected for termites once each year and before buying a home, or prior to selling a home.
2) Avoid wood to ground contact such as wood siding (6 inches minimum clearance between wood siding and the soil).
3) Wood decking built on the soil surface or wood members in contact with the soil should be treated.
4) Excessive moisture under or adjacent to the structure caused from AC drainage lines can create excessive moisture and contribute to the attraction of termites and other pests. Drains should be located at least 5 feet from foundation.
5) Foliage growing next to and/or on the structure (vines and shrubs are common problems) should be trimmed back and away from the structure.
6) Wood pile adjacent to the structure should be removed.
7) Wood fence in contact with the structure should have at least 6 inches of clearence or be treated.
8) Wood used in and over foundation expansion joints should be removed and the joints treated.
9 Tree branches contacting the structure should be cut back from the structure at least 5 feet.
10) Wood form boards left in place around the foundation should be removed or treated, especially in the subarea, which is a favorite hiding place for discarded wood after construction.
KNOW THE DIFFERENCE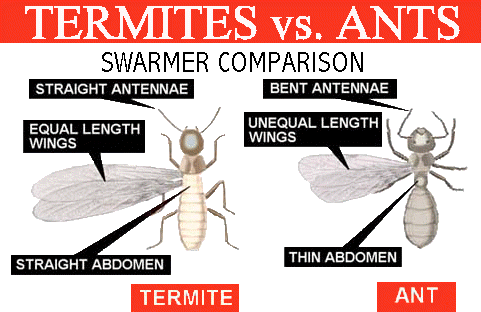 Greenleaf technicians have an average of 15 years experience in the field, and are trained in all aspects of natural termite pest control and eradication, including drywood termite control and subterranean termite control.
We proudly serve North Hollywood, Burbank, Sherman Oaks, Glendale, Hollywood, Beverly Hills, Encino, Los Angeles, Pasadena, and surrounding areas.
Top Ten Termite Questions
Thank you for your interest in the Top Ten Termite Question guide.
Click here to download
Pests can be hidden in many places, and can be a possible HEALTH HAZARD. Get rid of pests and
keep your house and yard HEALTHY & CLEAN. Nobody wants their home and yard covered
with POISONS, endangering their children, pets and the environment.